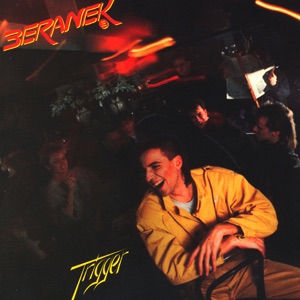 Trigger (1984)
Recorded at Scanax Studio, Oslo late 1983 early 1984.
Produced by Beranek, engineered by Sverre E. Henriksen and Alf Chr. Hvidsteen.
Personel:
Beranek: Vocal, guitar, synthesizer, drums, programming
JJ Burnel: Vokal, bass
Anne Danielsen: Vocal
Mari Maurstad: Vocal
Bernt Biberg: Bass
Arild Stav: Saxophone
Bendik Hofseth: Saxophone
Sverre E. Henriksen: Bass
Hans Olav Forsang: Photo and cover
Originally released by Snowflake Records, February 13th 1984.
Remastered and digitally released by Animal Voice April 10th 2007.
2019 remastering available June 1st 2019
Catalogue number CLP3040 / ANIMAL 5-2
Side A:
Some Boys Like Dolls (Beranek)
All Through The Night (Beranek)
Crazy Little Girl (Beranek/Søvik)
I Wish (Beranek/Søvik)
Scenes On The Screen (Sevaldson/Ribu)
Side B:
Animal (Beranek)
Why Don't You Wanna Dance? (Beranek)
Bullshit On The Air (Beranek/Søvik)
Work (Beranek)
Quiz (Beranek)
Click the cover to download free booklet.